From September through early November forward prices for both electricity and natural gas slowly but continually moved higher.  That pricing trend has changed as both commodities have seen their forward prices move lower.  What caused prices to reverse in direction?  There are a number of factors that come into play.
Weather:

 

Most of the country has been warmer than normal over the last several weeks, reducing gas consumed for heating which increased the surplus of gas in storage compared to prior years.
Weather forecasts in early October predicted this winter's temperatures to be at normal levels, some current models now anticipate this winter being one of the five warmest since 1950.

Natural Gas Storage

Current storage levels are at 3,939 Bcf or 9.5% higher than last year and 7.9% higher than the 5-year average.

Natural Gas Production

US natural gas production is at 90 Bcf/day, its highest level since April.
Currently the NYMEX natural gas winter strip is trading at $2.578 per dekatherm compared to $3.375 on October 23rd.    

Power is also down, the calendar 2021 wholesale price in the ComEd market is just over $25 per MWh compared to about $28 per MWh in October.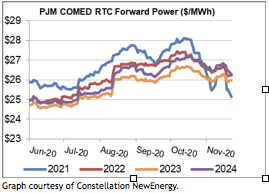 Due to the many factors that influence commodity pricing, we have seen the natural gas winter strip move down by over 20% and calendar 2021 electricity by over 10% since October.
The volatile and unpredictable energy market that we are facing is just one of the many reasons IRMA Energy can be a valuable asset to you and your bottom line. Let the IRMA Energy Team assist you with any of your electric or natural gas buying decisions.     
For more information about energy forecasting and assistance, contact a member of the IRMA Energy Team:
Brian Bowe                                           Maggie Murphy
VP of Energy Services                         Energy Program Coordinator
920-639-5657                                     773-871-1110
bbowe@irma.org                                maggie@irmaenergyservices.org