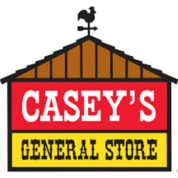 For more than 40 years, Casey's General Stores have anchored communities across Illinois, welcoming neighbors and travelers alike to fill their tanks and their stomachs.
What started with a leased service station in Des Moines, Iowa in 1959 has quickly grown into one of the nation's most successful convenience stores, operating more than 2,100 locations across 16 states – including 448 outposts in Illinois.
Through the years, Casey's success has been attributed to its friendly employees who pride themselves on exceptional customer service and the determination to positively impact each community that Casey's serves. Customers have come to know Casey's for their clean stores, quality gasoline, and wide selection of freshly prepared food items, including various sweet treats, sub sandwiches, salads and their famous, delicious pizza!
Headquartered in Ankeny, IA and now a Fortune 500 company, Casey's is currently the fourth largest convenience store chain. The company is also the fifth largest pizza chain in the nation and sells more than 19 million freshly made pizzas a year, along with 62 million individual slices.
Casey's has been labeled "food forward" by the consumer research firm NPD Group for offering a diverse and outstanding selection of freshly prepared foods and is poised to expand the convenience footprint in the United States.
The Illinois Retail Merchants Association is honored to present the 2019 Illinois Retailer of the Year award to Casey's General Store.
Additional Annual Meeting Information